$ 23.40
$ 39.00
Acorn Memory Game
A sweet tactile take on the childhood game of memory. Brightly colored acorns are hidden within the lid of each wooden vessel - can you recall where they are? Delightful for preschoolers and reminiscent adults alike. Comes in a muslin bag for storage. 

Small parts - not for children under 3 yrs.
100% wood w/ non-toxic paint
12 vessels (24 parts)
Handmade in the USA
Customer Reviews
26 July 2023
Loved it
Have not used it yet, but love the quality and have good plans for its use.
Pamela J.

United States
30 March 2023
Acorn Memory Game
Love love love this cute little wooden game! I purchased some a couple years ago and have enjoyed watching my granddaughter, Dottie play with these on a daily basis. Now I have a set for my house and a couple for future gifting. Thank you, Colette
Colette A.

United States
24 February 2023
LOVE
This company is amazing. This product is beautiful. I bought it for my Montessori classroom and the kids are so drawn to this material. Such great quality. I want this for my own kids one day!
Andrea P.

United States
30 January 2022
So Much Fun!
Our granddaughter LOVES this set! Such a valuable experience for her as her first game. We're playing in our own way just now, but still important skills like turn taking are being internalized. Fine quality and fun! Thank you!
Barbara

United States
15 November 2021
Fun for kids of all ages!
I got this adorable little game for our daughter for Christmas. She is 1yo so definitely a little young to play the real game and hard for her to just pull the top off (I mean she's one...), but still fun for her to play with the pieces. Older kids (and adults) find it a fun game to play, so I am excited to keep using this through the years.
Libby

United States
21 October 2021
Great fine-motor activity!
I bought this for my kindergarten classroom as a fun way to work on fine-motor and memory skills. The kids LOVE it and have been coming up with other creative ways to use it, too!
Erin K.

United States
27 April 2021
Cute and fun!
We enjoy playing with this little set. My son has learning delays and struggles identifying colors, so this is another fun way for him to learn and they also help with his fine motor skills as lifting the little acorns up is a little harder for him.
Louise R.

United States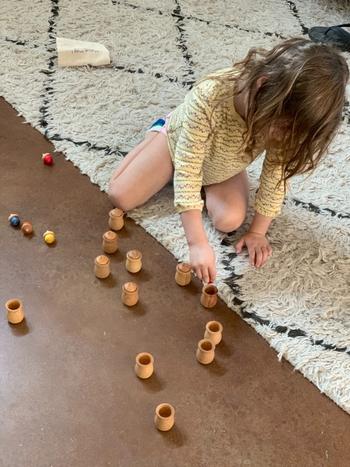 04 January 2021
Perfect Memory game
This memory game is perfect. Quality made, and full of possibility. My daughter (3.5 years old) uses them to make soup for her friends (i.e. dolls). We play memory as well, but mostly she just loves to imagine with them.
Sarah P.

United States
22 December 2020
Beautiful, beloved game!
I gave this as a gift to my 4 year old and her older siblings and grandparents enjoy it just as much! It is wonderful for memory, colors, dexterity and it is so well made with natural materials. We are a Waldorf education family and try to keep toys simple, natural and high quality.
Herkimer

United States
21 August 2020
Acorn MemoryGame
I bought this set for my grandsons, six+ and five years old. They really enjoy playing the game and especially like the acorn shape and tops.
Trish P.

United States
29 July 2020
Such high quality!
This acorn memory game is well made, creative and everyone has enjoyed playing it. I highly recommend!!
Brittany B.

United States
21 July 2020
Cutest game!
Love this little memory game! It will be played with and treasured for years to come:)
Jill t.

United States