$ 39.00
$ 0.00
Mini Bike Bag
The most darling and functional mini bike bag provides a place to stash a phone,  small tools, a tube, sunglasses, granola bar, dog leash... Equipped with straps to attach to your handlebars, it's waterproof and ready to roll with you.
Fair Wear certified production, meeting fair labor standards for the safety, health, and wellness of employees.
Water repellent exterior nylon and waterproof truck tarp liner for easy cleaning
Hook & loop 2-strap attachment system to handlebars
Oversized coated YKK zipper and water-resistant zipper track

Dimensions: 7"w x 3.3"h x 3.75"d
Volume: 86.6 cu in / 1.5 L
Customer Reviews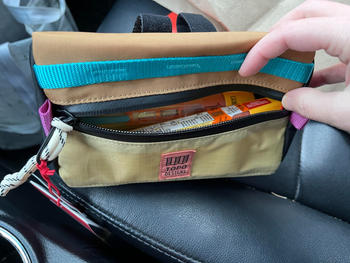 30 January 2023
Perfect size for 2 epi-pens + phone + little things!
I've been wanting a new bike bag for a couple years, one that would fit 2 epi-pens most importantly, and not take up the whole crotch bar. This bag is PERFECT for that! It fits my 2 epi-pens, my iphone 13 and some cash and chapstick. And it attaches to my handlebars so it's not taking up precious space on my crotch bar anymore!. I love this little bag so much!!
Joleen D.

United States
11 January 2023
Fits 2 epi-pens + phone!
This little bike bag is EXACTLY what I've been searching for!! The previous bag I had on my bike attached to the crotch bar and it always got in the way when I had to stop and straddle that bar. This will go right in between my handlebars (out of the way) AND it is surprisingly roomy! It will fit my 2 epi-pens AND my phone and if needed I could also fit keys/cash/card/chapstick!! Thanks for introducing this to me!!
03 January 2022
Perfect little mountain bike bag for my girls
This bag is the perfect size for my girls' mountain bikes. It's small enough to not get in the way, and big enough to hold their phones and some other small items like chapstick etc. They love the design and it is sturdy and well made!
Kim B.

United States