$ 16.00
$ 0.00
Bug & Bump Salve
For the tumbles and scrapes and bites and bumps that happen in a life well lived! We carry this balm on all our adventures: in the woods, on the river. It's soothing and one of the most magical items in our first aid kit. Better than a band-aid: when applied, the ouch disappears.
Now in a compostable paper push-up tube! When it's all out, toss it on the campfire.
Ingredients:
Homegrown calendula infused into olive oil, beeswax, essential oils of lavender, clove, eucalyptus, and rosemary. 
1 oz
100% made in Idaho, USA
Customer Reviews
18 October 2023
I think I need a 2nd one!
My daughter loves this one for any big bites, skin irritations, scrapes and scratches. It's easy for her to apply and travels well in my purse. Love this stuff!
Amy A.

United States
19 August 2023
Amazing
It arrived just in time to help our neighbor who walked into a nest of Yellowjackets.
Shanda M.

United States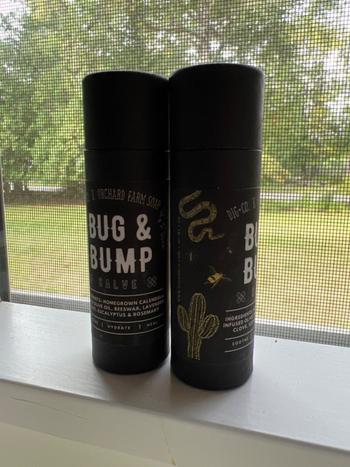 30 August 2022
❤️❤️❤️Bug & Bump
I live in Maine and I'm a magnet to bugs that bite and plants that cause rashes - Bug and Bump has saved me from the itchies! Its small size and the cute packaging make it easy and fun to toss into a tote or backpack for on the go relief. I love that it's all natural and the scent is lovely. I bought 2 for me and one for family in Vermont.
Elizabeth C.

United States
01 August 2022
Bug n Bump Rocks!
This is a repeat purchase for me. In the summer we use this on an almost daily basis. I don't quite know what we did without it for so many years. Highly recommend!
Cristen C.

United States
30 June 2022
Love Bug & Bump salve
we love the bug & bump salve.. my preteen girls are always so thankful that I keep this in the car. But I ordered another so I can keep one in the house now too :) Thanks Dig for sharing such great products with us here in Tennessee - the mosquitos love us. :)
Nicole S.

United States
26 May 2022
Bug and Bump Salve
Bugs love me and this does the trick to stop itchy bites!
Shelley Y.

United States
18 March 2022
Bug & Bump Miracle
I got this in anticipation of mosquito season in Indiana, but on a whim, I decided to apply it to some recurring eczema I was experiencing. This stuff worked amazingly well and it was cleared up within 24 hours! I'm now wishing I could order an even larger stick of this as I'm sure we will go through it like crazy come summer.
Emily B.

United States
11 January 2022
Great stuff!
Smells amazing and very soothing. Can't wait to give it a real test this summer.
Jessica S.

United States
03 September 2021
Obsessed
I can't say enough good things about this product. It provides almost instant relief of itch, sting and burn. Both my kids have super sensitive skin and there's nothing else like it that provides such relief. I have several relatives out east and have recommended it to them (bigger bug burden then MT). Amazing stuff.
Stephanie W.

United States
23 August 2021
This works!
I spend most of my summer and fall managing mosquitos bites and the occasional bout of poison ivy. I have used all kinds of "bug creams", but this is the first product that truly works well to deal with the itch, plus it smells so good. My daughter has used it this summer, too, and was sold. She told me to make sure I buy more because this stuff works! Highly recommend!
Laura W.

United States
01 July 2021
Camp Kit Necessity
It works! Last summer, I got some crazy welts from mosquito bites, but so far this year, no welts, and any itching has been quickly soothed with this salve. My husband is a fan, too, and we made sure to keep it within easy reach during our most recent camping trip, as I imagine we will on future trips.
Laura T.

United States
02 August 2020
This stuff is amazing!
We just got back from a camping trip where we used this constantly on all our bug bites and bumps. I'd give 5 stars if the container was more like a chapstick or a tin, my youngest twisted the salve up so far it's stuck in the lid. But! We'll still use it!
Anna W.

United States
13 July 2020
The very best
This stuff is the best. Provides instant and lasting relief from itchy bug bites. I will never be without it!
Valerie R.

United States
08 July 2020
Pretty great magic stick
I am a nanny and we enjoy loads of outdoor adventures. Mosquitos in NW Montana are pretty fierce right now and the little blond one year old is their favorite treat. I bought this to try and it has been great. The 3 year old got a terrible fly bit that really was angry and this was soothing; he asked for the bug-bite magic stick.
Michelle G.

United States
02 June 2020
This stuff works!
My daughter got a huge bug bite and says this salve is like magic! We highly recommend!!
Jill t.

United States