$ 25.00
$ 35.00
ABCs of Life Art Print
I saw this print online at the beginning of 2019 and fell in love! I shared the image and everyone else was in love as well. The sweet drawings, the simple and pure concepts. It was what we all want, right? To balance the heaviness of this world with the lightness of joy within our homes and within our communities, to throw our energy at goodness equalling greatness. 
So: I reached out to the artist and we are now offering this beautiful print here at DIG + CO.
Details
Artist: Lori Roberts 

Made in Portland, OR

The piece is printed on archival matte paper 

11x14"

Unframed
Customer Reviews
18 March 2021
Speaks of 2021
In the process of getting this framed, I like it some much!
Courtney I.

United States
26 February 2021
Love it!
I love it! Thank you!
Kimberly H.

United States
12 August 2020
Great gift!
We gave this poster to our very outdoorsy niece for her 7th birthday and she loved it! Beautiful quality.
Kristin F.

United States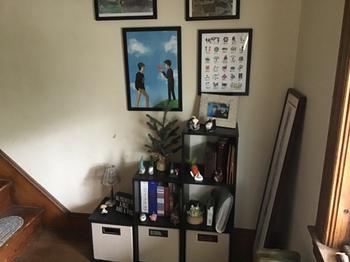 17 July 2020
Love this print!
I came across this print, mid quarantine and it just really spoke to me. Here it is, hanging in one of my favorite little corners of the house. I love the warmth it brings to our home.
Jenny .

United States
21 June 2020
ABCs of Life
I love everything about this print! Quick shipping too
Emily K.

United States
04 June 2020
Beautiful
This print is so sweet. It is printed on quality/heavy paper and the print quality is great. The illustrations are wonderful.
Lee M.

United States
15 April 2020
ABC's of Life
Received in a most timely manner and was JUST as pictured. Very pleased with print and with DIG&CO. Delighted to have found their website!
Sharon F.

United States
05 April 2020
So Pleased
I'm so happy with this print. I'm a therapist who works with kids and I can't wait to hang it in my office. It highlights important and helpful reminders for me and my clients.
Jennifer M.

United States
23 February 2020
Beautiful
This is so pretty! It did arrive a bit beat up, hence four instead of five stars, but once we put it in a frame you can't really tell. I love it.
Martha

United States
Oh shoot! We're of course happy to replace it for you. :)
27 January 2020
Beautiful
This print is so beautiful and such good quality. The mail delivery service took great care of it as well. It arrived this morning and I can't wait to find a home for it in our home.
Hanna .

United States
23 December 2019
ABCs
Excellent! I purchased this beautiful quality print as a special gift. What a positive message it delivers from A to Z! So happy to recommend your company! Thank you!
Barbara

United States
31 May 2019
Love it!
This print makes me smile every time I see it. I hung it in the kitchen and appreciate the simple aesthetically pleasing reminders of what I value in life.
Kerry L.

United States
21 May 2019
Beautiful print
This is a beautiful print, we have it having in my sons' room and choosing a letter to read and talk about every night.
14 May 2019
LOVE this print
This is the best print for gifts! Something they can hang in their home for a lifetime of awesome reminders!
14 May 2019
Beautiful print for my home
I'm thrilled with this lovely piece; it brightens my home and is a constant reminder of my family's values, hanging right there for us to see every day. The art is gorgeous and people constantly comment on it. I would love to see more prints from this artist!
07 May 2019
ABC's ...
Beautiful and just what I was looking for ❤️
28 January 2019
best gift!
My mom bought this for me for my birthday and I just flipping love it so much. I plan to hang it in our bathroom so my family can read it every single day. It's perfect.