$ 26.00
$ 0.00
mama + babe cats in an envelope
I saw these sets at a craft fair and simply couldn't get them out of my mind! Flipping ADORABLE.
Your set will be a surprise! Every single mama + babe set are one-of-a-kind, made from reclaimed materials. If you have a color that you'd like, leave us a note at checkout and we'll do the best we can. No guarantees.
The Mama and baby are both bold solid colors of cotton with a wool felt heart, and the beds feature various beautiful patterns that complement the kitties.
Contains small parts - always supervise play.
* made in Colorado
* 100% cotton, felt heart
* Mama Cat (2.5" long, 3.5" tall), a Kitten (1.5" long, 2.25" tall), and a bed (4" wide, 4.5" tall)
Details:
* made in Colorado
* 100% cotton, felt heart
* Mama Cat (2.5" long, 3.5" tall), a Kitten (1.5" long, 2.25" tall), and a bed (4" wide, 4.5" tall)
Customer Reviews
12 December 2021
Wrong kitty color
Experience was good except I requested purple or lavender kitties and got gray. The kitties are wonderfully made, just didn't get color I requested. Marsha Filimon
Marsha F.

United States
22 November 2021
Tiny cats for my kids to love on.
I bought these for my kiddos. Perfect little stocking stuffer. I know they will love them. Until we can get a real cat, they can have fun with these little cuties.
Cutest l.

United States
24 August 2021
All things Cat
My friends son loves cats…he was thrilled with the TINY CAT FAMILY that I found him here. He carries them around constantly with his PJ BAT… heirloom gifts that a child can treasure for a lifetime and pass on to their own children.✨✨
Josefina B.

United States
26 April 2021
Kitty Love
So stinking cute... I can't wait to send them in a package to my 4 year old animal loving niece! Thank you ♡
Barbara H.

United States
07 April 2021
Adorable
Big hit with my boys - they sleep with them every night. Well made too!
EMILY B.

United States
26 March 2021
Beloved by our toddler friend
We purchased kitties in an envelope and a caregiver/ baby doll, and got to give them to a little toddler friend. She loved both! They are durable and well-made, and seem like they will last a long time. They are simple, but give something for little hands to do. Thank you!
Sarah C.

United States
16 January 2021
Adorable!
This is just so cute and well made. It was to be a Christmas gift for my granddaughter but didn't arrive in time to be included in the box (good thing too since that box has gone astray!). I'm going to send it for Valentine's Day. I'm sure she will love it ~ cats in their own pouch, what's not to love!! Kinda wish I could have picked a color palette though.
Martha P.

United States
02 August 2020
Sweetest Gift Ever
All I can think when I see these little kitties in a pouch is that I would have killed for them as a kid. Made the perfect gift for my niece who is expecting a new baby brother or sister any day! Very nice quality and lovely pattern/colors.
Emma M.

United States
30 June 2020
Lovely little cats!
This momma and her babe were sent to my three year old daughter as a gift. They are colorful and truly darling. The perfect little toy to add to her backpack as we venture out of the house or for her to snuggle with in bed. They're crafted well and are a great size for her little hands. I love them myself! I'd recommend them as a special gift to any little one who loves cats. Adults, too!
Tracy B.

United States
21 May 2020
Perfect gift!
Arrived quickly and made a little girl so happy on her birthday!
Nicki W.

United States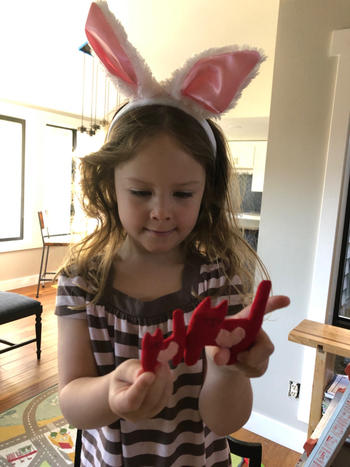 20 April 2020
Cute cats!
My girls loved these little kitties. They were smaller than what I was expecting but they are super cute and the little fabric envelope they come in, is adorable. They are great for in the car or at nighttime when my littles are settling into bed. Because they're so soft it's ok if they fall asleep with them. I definitely recommend them!
Margaret E.

United States
15 April 2020
Sweet little cats
I got these for my 1 year old for Easter. She happens to be obsessed with real cats and she's equally obsessed with these little stuffed cats. You will often find her carrying them around or giving them kisses. Quality craftsmanship.
Sasha C.

United States
13 April 2020
Mama + bebe cats
Adorable! I'm not sure who loves these more, me or my daughter.
Victoria P.

United States
23 March 2020
Perfect gift!
I gifted this to my favorite 7 year old, and she loved it. Beautiful colors and well made.
Tara G.

United States
18 March 2020
The cutest!
These little mama and baby cats are simply adorable. My kids were so excited to get them (and the dogs too). They're so well made and the fabrics are so joyful. Thanks for yet another great item in your store Nici!
Elise B.

United States
02 March 2020
Great small gift
I got these for Valentine's for my 13 and 10 year old. They love the tiny size and small pouch to hold them.
Denise C.

United States
26 February 2020
So cute!
Love these little kitties! Darling and so well made:)
jill t.

United States
21 February 2020
kitty friends forever::mama + babe cats in envelope
squeals, giggles, and pure delight! from this gifting mama and my gift recipient daughter—she loves these so much--has tucked these well made and sweet kitty friends in all her pockets and even ski jacket to share her world with them!
Angela L.

United States
My daughter does the same in her ski jacket! I love imagining those smiles kitties tucked in there up on the mountain. :)