$ 30.00
$ 0.00
Crayon Rocks + storage box / 64 count
You'll never go back to the standard crayons of your youth after experiencing the rich color and long-lasting huzzah! of these crayons.
Rock crayons are designed to strengthen the grip muscles in children, preparing fingers and hands for handwriting. Also, they don't break! YAY.
64 crayons / 32 colors: red, green, blue, egg yolk yellow, black, brown, orange, purple, pink, grass green, sky blue, sunshine yellow, gray, tan, peach, white, strawberry cream, honey wheat, coral, pumpkin spice, coffee, tree bark, cranberry, rose red, magenta, periwinkle, turquoise, aqua, spruce, autumn green, navy.
Customer Reviews
25 December 2020
Highly Recommend
These are a wonderful product! The colors are bright and so vivid. They come in a cute container. My 3 grandsons love them. You won't be sorry!!
Wendy T.
United States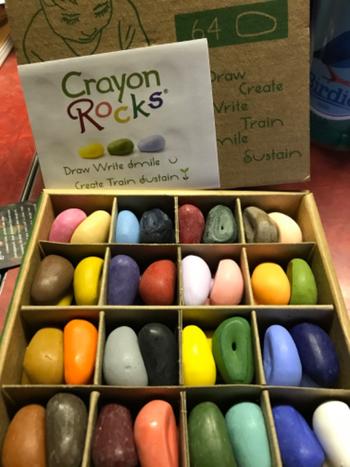 05 December 2020
Love this concept
Bought as a gift but want to keep for myself!
April B.
United States
25 October 2020
Great for little hands
My son is homeschooling this year and is struggling with a buy in to do his work.... Finding rocks is is favorite pastime... Enter magic rocks that color and help you complete your handwriting and numbers!!! Win for all!!
Coraly H.
United States