$ 22.00
$ 0.00
orange calcite point
The color of sunshine and honey, Orange Calcite beams joyous vibes, and strength of spirit and energy.
Place orange calcite in places to amplify energy and radiate positivity. It aids in relieving fears and stress. A bright burst of color, calcite enhances creativity, clears negativity in our environment, and aids in purifying our surroundings.
100-200g weight
2-3" tall / 1.5-2" wide
Customer Reviews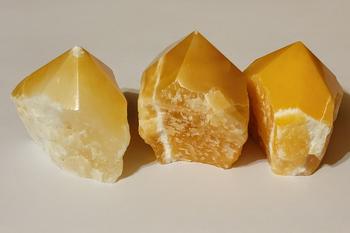 22 February 2022
Lovely Gift Item!
I purchased six of these, one for myself and five for family members. Such a lovely gift item and love that each one is unique! Just a note if ordering more than one or with other items - Two of the six points on the orange calcites came chipped, one worse than the other. I don't think they were originally like that. They were packaged well but I just assume that USPS was rough with the package during transit.
Nicole P.

United States