$ 0.00
$ 0.00
Dig This Workshop: Beginning Gardening / May 22, 2019
Live Video Workshop + Gardening Kick-Start Packet (PDF)
Wednesday, May 22 at 10 AM Pacific / 11 AM Mountain / 12 PM Central / 1 PM Eastern
I wish I could invite you all over to my plot for this workshop but this is the next best thing! Join me in a live, interactive video workshop.
We scheduled it so you hopefully could join in over your lunch break at work but if you can't make the live call time, no sweat: we will send you the video and supplemental materials to take in whilst you sip tea in your pjs whenever you'd like.
You can send in your questions ahead of the call or ask them live! Everything covered during the call, as well as resources and a garden planning grid will be delivered to you in a printable PDF within a week of the live call. We anticipate the call will be approximately 75 minutes, depending on the length of the live Q&A.
Register early and save! $10 off through May 18.
This live online video call with me (Nici Holt Cline) is for you if…
* You've always wanted a fruit and vegetable garden but feel overwhelmed or afraid to try
* You've started and stopped many gardens because you've lost steam or come up against challenges you couldn't tackle alone
* You're determined to start a garden this year, but don't know where to begin
* You don't have time to sift through all the information and advice out there and want to streamline the research so you can just begin!
Whether you live in the city and only have a fire escape, you live in the country and have land as far as the eye can see, or you're somewhere in between, this workshop will help you get your gardens started on the right foot.
A few questions we will address:
When do I start? How do I start? How much time will it take? What vegetables should I plant? How do I time the planting of all the things? How do I make the most of my space? Do I fertilize or amend the soil? What are the easiest things to grow? What is companion planting? How do I use mulch? How can I keep up with weeds? How much should I water? What about thinning plants? How can I keep plants from bolting? When do I know it's time to harvest? 

About the teacher:
Nici Holt Cline has 20 years of gardening experience. She started out picking tomatoes on a farm in college and eventually managed the farm. She ran her own successful gardening business for years and is a certified Master Gardener. These days she tends to her own plot in western Montana. She's a passionate about sharing her knowledge and love of gardening and wants to create a growing community of home gardeners.
Customer Reviews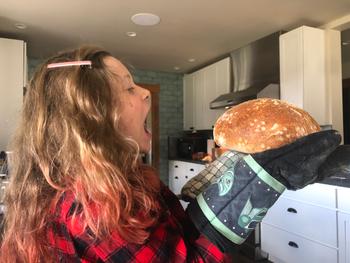 06 May 2020
empowering!
Such a great workshop! Feeling empowered to feed my family more healthily. We have upped our bread, pancake and pizza dough standard as recipes with sourdough are absolutely delicious. Time spent creating with my family has been priceless. Thanks Nici!
Angie

United States
17 June 2019
Fantastic guide!
This guide gave me so much confidence as I started my garden!
Katie H.

United States
11 June 2019
Nici strikes again with another marvelous workshop!
This workshop is just the right combination of duration (approx. 90 minutes) and amount of information. You will learn the fundamentals of starting your own vegetable garden but won't be overwhelmed. The gardening manual that came with this class (available separately) was PURE GOLD for a novice like me. Tips about soil conditions/preparation, companion gardening, what to grow.... all tidbits that make vegetable gardening accessible to all. Who knew burlap from our local coffee roaster was the answer to weeds in my garden paths? Now, my paths are covered with burlap. I did not attend the class live but viewed the video later. I found that reading the manual first was very helpful. And less than a week later---my soil was prepped, and 8 tomato plants are in the ground! Like Nici's other workshops, she generously shares her years of experience, knowledge, and heart with participants. I highly recommend this workshop. In less than two hours, you will be armed with all information needed to start growing your own food.
Helia J.

United States