$ 37.00
$ 0.00
Pruner
Searching for beautiful and burly pruners for your foraging and gardening adventures? We got your back.
Inspired by old world Japanese design, these pruners offer fluid dexterity and utility. Durable steel construction, shiny copper details, and easy comfortable handling make these pruners a HECK YEAH.
8" x 2.95" x 1.25"
Customer Reviews
30 December 2022
Great quality clippers
I gave these clippers to my husband for Christmas. He immediately loved them. The feel, how sturdy they are, how beautifully they are made. Now that he is using them they also cut very well. I am convinced that he will have these for ever. Thank you for these amazing clippers!
31 March 2022
"Sharp" shears!
I love how well these shears work and their utilitarian design. My only complaint is that they're made in China. Wish I could find locally made gardening tools! I'd be willing to pay a bit more for them.
Joleen D.

United States
23 March 2022
Best pruners I've owned!
These pruners are great. They have a really good weight. They're solid and sharp. I've already used them a ton and have only had them a couple weeks. I'm really happy with this purchase!
Bridget B.

United States
15 December 2021
Beauty in everyday items
These are a gift for our dear friend with a Flower CSA. I can't wait to give them to her!
Anne R.

United States
12 December 2021
5 Stars Isn't Enough!
I would give this a million stars if I could! It amazing!
Andrea D.

United States
06 July 2021
Very happy with this item!
The pruner is perfect. Fits in my hand nicely and is a good quality. It feels substantial without being overly heavy. I've been putting it to use in my yard and the community garden. I purchased two other items from this line and have been equally happy.
Sophia M.

United States
04 December 2020
Unbelievable quality and design
I love the hori hori knife for weeding and transplanting. Bought another for Mom, and pruners to round out the gift. But now I have pruner envy-the quality is amazing, and unlike many, the action isn't too wide for smaller hands.
Shannon T.

United States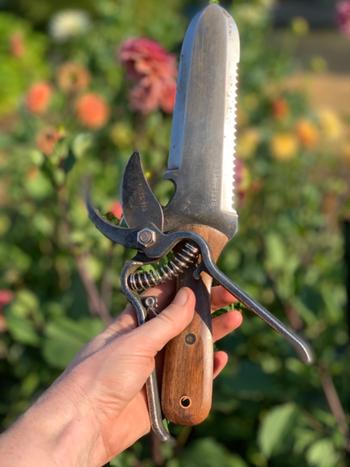 27 November 2020
Picky gardener finally finds true love
I've been searching for pruners to love for years. I even ask to take pruners out of the packaging to test the heft and feel when I visit stores. I've always had to settle for good enough. Knowing that Nici only carries items she truly loves, I decided to give these a whirl. I was a little skeptical that the plain metal would be comfortable (it is) and I couldn't tell if the size would work for my smaller hands (it does) or if the spring would be too tight or too loose (it is just right). I spend hours and hours and hours in my flower garden and these make my work not only easier, but also more enjoyable. In fact, I love them so much I bought a second pair to keep in my car for random other people's yards and roadside foraging. (I ask for permission first, I promise.) As is visible in the photo, I love the Hori Hori Garden Tool, as well. Together, they are the only hand-held tools I need.
Angi

United States
15 November 2020
Pruner::besets
These pruners do EVERYTHING. Big stuff, small stuff. They feel just right in my hands AND my husband's hands too---they are easy to sharpen right up after LOTS!!! of work. And they are beautiful! which makes the work so much more better : >
Angela L.

United States
22 August 2020
super shears
fantastic! sharp! snip away to a sublime state...
SPENCER B.

United States
02 May 2020
Awesome pruner!
I love this pruner! It's solid and pretty and works great! Highly recommend!!
Jill t.

United States
17 April 2020
I love these pruners!
These are the best pruners I've ever owned... and they're beautiful!
Julee S.

United States
15 April 2020
Nip, nip
What can I say? These are pruners, and they prune. No frills. They fit in my pocket. Spring is here and so they get used most days of the week. I have several pairs of pruners, some rusty, some cheap....these are new, so they stand out for now.
Michelle

United States
16 March 2020
For a Leap Day Lady
She's been a pruning machine and commented on how, "they are the best pruners she's ever had!"
Audrey H.

United States