$ 13.00
$ 0.00
The Heart of Sourdough Bread Baking Digital Guidebook
24 pages, full of all the detail
- art + science of sourdough
- detailed instructions for starting and maintaining your starter
- FAQs + answers
- Troubleshooting
- step-by-step bread making and baking
- recipes
- sourdough dictionary
Customer Reviews
10 March 2023
So helpful!
This guidebook gave me the confidence to finally try sourdough for myself, and now I'm hooked! I've tried other recipes and books before and found them to only increase my intimidation. This book breaks down the process and terminology in a way that is approachable and understandable. So happy to have found it!
Tiffany

United States
18 May 2021
Super clear and helpful!
I am a brand-new sourdough baker and found this guide so helpful! I've been following Nici for years so I knew this guide was going to be amazing, and it totally surpassed my expectations. This is the only info you need! I'm confident it will serve me well for a long time as I continue to learn each time I bake. Thank you!
Heather M.

United States
03 May 2021
Sourdough Success
I finally decided to take a dive into the world of sourdough. This guide was easy to understand, a great confidence booster, and just what I needed to get me started. First few loaves have turned out delicious! Thank you for creating this beautiful guide!
Joleen R.

United States
19 March 2021
Yes! Buy this guide!
Excellent guide, full of gorgeous photos and easy to understand instructions.
Anna S.

United States
12 February 2021
Thank you!
I made my first loaves using your pdf guide this week. It makes me so happy that it actually worked! And I feel connected to something ancient and primal. Thank you!
Peggy

United States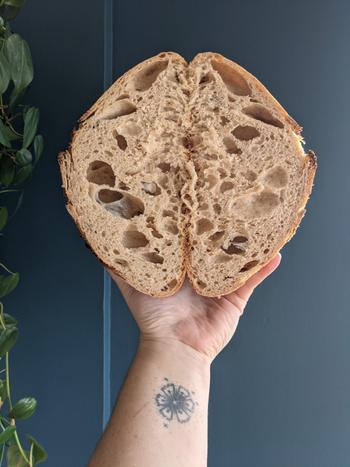 26 January 2021
Sourdough Digital Guidebook
This guidebook is incredible! It felt like my hand was held all the way through a process I had always written off as being too hard. I feel totally sourdough empowered after working through this guide!
Elizabeth E.

United States
18 January 2021
Sourdough Empowered
I can't thank you enough for that amazing guide! It felt like my hand was held all the way through a process I had always written off as being too too hard. Yay! Feeling totally sourdough empowered
Elizabeth .

United States
09 June 2020
Take this Class!
This course was wonderful! After a week of building a starter and a couple of days of troubleshooting with Nici, I was so nervous that I wouldn't be able to make bread. In her guide, she says to trust that you will make bread. Well, you will. make. bread. And it will be delicious and beautiful. The online course was well ran and supportive to answering questions. Something you can do with your whole family in the comfort of your home. Would highly recommend!
Erin K.

United States